dental bridge
---
Introducd: A dental bridge does exactly what the word implies: it bridges across an empty space. A fixed bridge is anchored from one strong tooth to another strong tooth and fills the gap that was left by the
A
dental bridge
does exactly what the word implies: it bridges across an empty space. A fixed bridge is anchored from one strong tooth to another strong tooth and fills the gap that was left by the missing tooth (or teeth).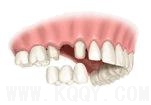 Dental Bridge benefits
a fixed bridge is stationary. You don"t need to take it out at night.
It looks like your natural teeth.
It"s comfortable and doesn"t move when you"re chewing.
It anchors and supports your neighbouring teeth; keeps teeth aligned; and restores your mouth to a level of prevention.
Bridge drawbacks
There really are no drawbacks but a bridge needs to be cleaned very diligently. You will have to use a special floss (we recommend Superfloss from Oral-B) or irrigator and get under the bridge to keep plaque and bacteria from collecting.
Types of Bridges
metal-fused-to-porcelain
gold-fused-to-porcelain
porcelain jacket crown
circonia-base crown ( CERCON and PROCERA)
TAGS: